Cost of Living
Cost of Living
This collection of data and information promote the true cost-of-living in a region, assist in business recruitment and retention, and provide comparisons to other areas of the country.
The Florida Price Level Index (FPLI) measures the relative costs of living across Florida's counties. The FPLI was established by the Legislature as the basis for the District Cost Differential (DCD) in the Florida Education Finance Program (FEFP).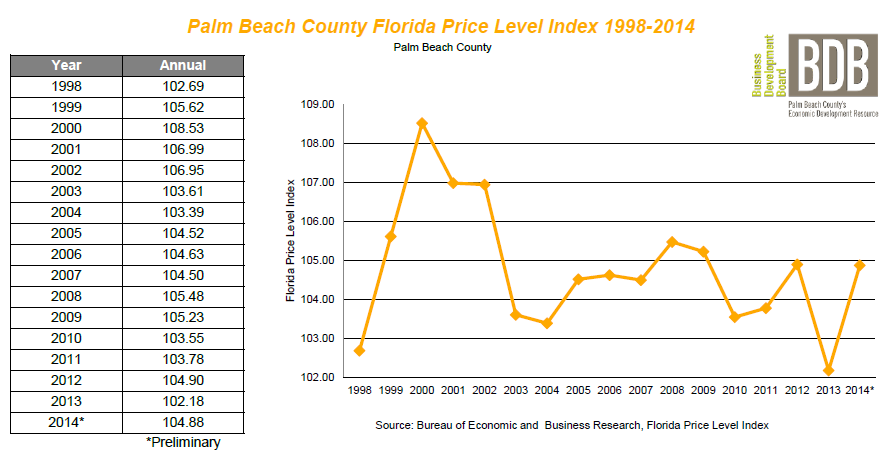 The ACCRA Cost of Living Index measures relative price levels for consumer goods and services in participating areas. The average for all participating places, both metropolitan and nonmetropolitan, equals 100 (i.e. The National Average equals 100). Each participant's index is read as a percentage of the average for all places. The index does not measure inflation. The index reflects cost differences for a mid-management standard of living, and actual cost of living differences can change based on your residential location. Because the number of items priced is limited, it is not valid to treat percentage differences between areas as exact measures. The index does not take taxes into consideration.
*The Palm Beach County Division has not reported cost of living figures from 2006Q3 to 2007Q3, but is expected to report for the fourth quarter of 2007. When new figures are released they will be posted.

The last reported Index average 2006(Q2) – 2007(Q1):
Composite Index

Grocery


Housing


Utilities


Transportation


Healthcare


Misc.
Goods & Services


117.5

109.2

143.0

96.2

109.3

113.0

109.2
For more information contact:
Judy Fancher
Administrative Assistant
Economic Development & Research
Phone: 561.835.1008 Ext. 4112
jfancher@bdb.org